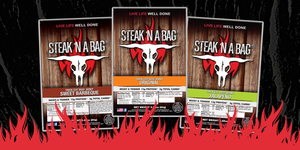 runnin' wild university
How-to guides
Here at Runnin' Wild Foods, we are committed to encouraging you to get out there and cook up your own story. Check out our simple and easy cooking guides.
grab life by the horns
big bold flavor
We constantly strive to be the best. That's why our products are made with only the finest ingredients we can get our mitts on. Every one of our Runnin' Wild products can kick the pants off anything else out there.
Don't take our word for it
★★★★★

Holeefreakincrap!!!

I put this (Maple Sugar Bourbon) on pork chops and pan seared them in olive oil and wow, just wow. This will be my go to for all things pork!! I am going to try others as well because dang this was amazing!

Kim B.

Middletown, CT
★★★★★

BATTING A THOUSAND

As usual, no complaints. I've been eating jerky for 60 years, I guarantee you this is the BEST!!!!

Joe G.

Sherman, TX
★★★★★

I am addicted to these nuts!

I learned about these nuts from a pumpkin farm in Edneyville, NC and now I am hooked! I love the personal touch from the staff at Runnin Wild Foods, they are the best! I love the "love notes", it adds a special touch :-)

Mercedes R.

Simpsonville, SC
★★★★★

A+ Gummy Worms

Best bag of gummy worms I have ever purchased. Would recommend to anyone who wants to hear a grown man brag about a gummy candy.

Adam J.

Conway, AR
★★★★★

#1 Bill's fan.

I absolutely and totally love this veggie seasoning. When I am out I have tried other stuff in the grocery store but nothing comes close, not even remotely. Gave some to my sister in law and they are hooked now too. Awesome on every veggie. So weird to admit but it's so good.

Steve A.

Middleboro, MA
Runnin' Wild Nation
Millions of products sold in all 50 states, bursting with BIG Bold Flavor. If you're not Runnin' Wild, you're runnin' behind!